SUPPLIER INTRODUCTION
---
Best and Latest Touch Screen Technology
Headquartered in Ontario, Canada, Baanto International Ltd. is a leading developer of innovative, high performance, and scalable touch solutions. With eight (8) patents filed and twelve (12) in process, Baanto ShadowSense™ for touchscreen applications solves many of the technical issues that plague other touch technologies.
Baanto has developed multi- touch solutions for:
Mid-size embedded applications ranging in size from 8" to 22"
Large area touchscreens for digital signage products ranging in size from 32" to 98"
Interactive Whiteboard solutions ranging in size from 79" to 95"
Ultra-large multi-user, multi-touch solutions supporting touch surfaces of up to 267"
Baanto has a direct and partner presence in North America, South America, Europe, and Asia, enabling it to provide its customers with proven technical and sales support worldwide.

ShadowSense™ is a revolutionary new true multi-touch, touchscreen technology. ShadowSense scales cost effectively from 8" to 267" and provides fast, accurate and responsive performance across all product ranges.
It is capable of accurately measuring the position of a given object's "shadow". By determining the relative angle and other characteristics of the shadow cast by an object, the object's position in space can be fixed.
Driverless, truly plug-and-play, ShadowSense also offers unaffected performance in the brightest mid-day sun.
Product News
Slim Touch Frames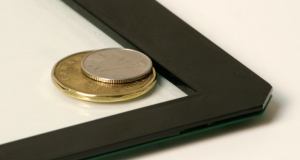 Measuring just 3.2 mm from glass to frame surface, the Baanto Slim Touch is the thinnest multi-touch frame on the market. Combining the industry proven performance of ShadowSense with a minimalist bezel design allows the Slim Touch to be utilized in multi-touch applications typically exclusive to projective capacitive technology. A perimeter based sensor design decouples the touch function from the protective glass providing improved optical and environmental performance, and better immunity to surface debris and scratches.
Dashboard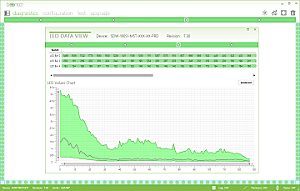 An industry first, the Baanto Dashboard provides customers with the ability to easily configure and modify the touchscreen behavior. The Dashboard allows the user to adjust the performance and touch characteristics of the touchscreen to provide spurious touch and palm rejection, debris and static object recognition, rain and fluid cancellation, and touch object characterization. Also included with Dashboard, are comprehensive monitoring capabilities that allow users to quickly assess the health of their ShadowSense frames, ensuring 24/7 operation of the most critical applications.
Baanto Product Line-up
Part Number
Description
Doc
Midsized Frames
SDW-150S0
15 inch 4:3 A/R Open Frame Multi-Touch Solution

SDW-170S1
17 inch 5:4 A/R Open Frame Multi-Touch Solution

SDW-190S1
19 inch 5:4 A/R Open Frame Multi-Touch Solution

SDW-190W2
19 inch 16:10 A/R Wide Open Frame Multi-Touch Solution

SDW-215W1
21.5 inch 16:10 A/R Wide Open Frame Multi-Touch Solution

SDW-220W2
22 inch 16:10 A/R Wide Open Frame Multi-Touch Solution

Multi-Touch Digital Signage Solutions
SDW-319W1
32 inch Large Format Multi-Touch Solutions

SDW-403W1
40 inch Large Format Multi-Touch Solutions

SDW-424W1
42 inch Large Format Multi-Touch Solutions

SDW-464W1
46 inch Large Format Multi-Touch Solutions

SDW-487W1
48 inch Large Format Multi-Touch Solutions

SDW-550W1
55 inch Large Format Multi-Touch Solutions

Multi-Touch Conferencing and Collaboration Solutions
SDW-329W1
32 inch Large Format Multi-Touch Solutions

SDW-565W1
56 inch Large Format Multi-Touch Solutions

SDW-656W1
65 inch Large Format Multi-Touch Solutions

SDW-713W1
70 inch Large Format Multi-Touch Solutions

SDW-734W1
72 inch Large Format Multi-Touch Solutions

SDW-813W1
81 inch Large Format Multi-Touch Solutions

SDW-873W1
84 inch Large Format Multi-Touch Solutions

SDW-917W1
90 inch Large Format Multi-Touch Solutions

SDW-989W1
98 inch Large Format Multi-Touch Solutions

Slim Touch Frames
SDW150Z1
15 inch Bezel Multi-Touch Solution, Slim 3.2 mm glass to frame surface

Dashboard
DASHBOARD
Control software for configuration and modification of touch screen behavior

Interactive Solutions
Christie® Interactivity Kit
Supports 3x1 up to 16x6 Christie Micro Tiles or a 12 sqm video wall

Teamboard T4
Interactive Multi-Touch White Board
NOTE FOR MIDSIZE/LARGE SIZE FRAMES
Supported Operating Systems:
Windows XP® / XPE®
Windows Vista
Windows 7®/ 7 Embedded
Windows 8®/ 8 Embedded (when available)
Linux®
Mac OS®
Android™
No USB drivers or touch detection processes on host CPU:
USB HID interface to host
Windows 7® and 8 compliant packet formats